Peaky Blinders Entertainment Ideas for your Wedding or Party
Planning Your Peaky Blinders Themed Wedding Or Party
Happy October wedding and party planners!
We love the crime-drama period of Peaky Blinders here at Tailored Entertainment. Rarely has a television show had such an impact on popular culture than that of Peaky Blinders. If you're craving unique and stylish ideas to infuse your special day with the gritty charm and glamour of the Shelby family, you're in the right place. From decor and attire to music and ambiance, our blog is your go-to resource for crafting a wedding that pays homage to one of the most beloved TV series of our time. The Shelby's post-Great War fashion has swept Britain, making three-piece suits, overcoats, flat caps, and laced boots a popular choice, not to mention the glamorous flapper dresses and fur coats. Replicate their iconic style and add an air of authenticity to your Peaky Blinders-themed event. Dive into our creative suggestions and let vintage reign supreme.
So by order of the Peaky Blinders, we're kindly obliged to start of by informing you of acts and songs that are perfect for peaky blinders style party and wedding entertainment.

The Peaky Blinders Wedding and Party Bands
The Prohibition Pop Band - Big Vintage Themed Party Band
If you're after a big party band for your Peaky Blinders themed wedding then The Prohibition Pop Band are the Gatsby-style glamour band for you. With a repertoire spanning modern day such as Beyonce, Taylor Swift, Pharrell Williams and loads more across the decades in a 20's style, The Prohibition Pop Band will bring the contemporary hits that you know and love but all thrown into a time machine - giving the perfect 21st century twist to your Peaky Blinders entertainment.
The London Belles - Vintage Trio
Another act that will serenade you at your wedding or party with modern-day pop pleasers all the way back to 30's and 40's swing classics is the harmonious and victoriously vintage trio The London Belles. Exuding class, London's most in-demand vintage band will make you feel like you're the Shelby's sipping whiskey, brandy and rum in the smoke-tinged dancehalls.
LFX (Electro Swing) - Party Swing Band
Merging 21st bangers with a 20's swing, one of the most popular function bands in athe country being LFX - (Electro Swing) are a roaring, energetic act brimming with a heavy-measure of brass, class, style and of course sophistication. Making a night that will be truly unforgettable, LFX bring to life club classics that will get you raving to a Gastby's style set along with contemporary and classics such as The Jungle Book, Ray Charles and Estelle.
Gatsby's Jukebox - High End Vintage Band
We're certain that Gatsby's Jukebox are the the act that the Peaky Blinders would go and watch after big payday at the horses. The sensational six-piece will get the dancefloor full all night long with their sublime Gatsby's style swing sounds to modern day chart hits that you know and love. Offering an optional tap dancer, Gastby's Jukebox are a carnival of a live band bringing the 20'era to life. The perfect act for Peaky Blinders style entertainment!
Bootleg Boogie Band - Jazz/Swing Band
Bootleg Boogie Band are the ultimate cocktail band with their sensational jazz/swing. Hailing from London featuring some of the country's most promising musicians and with a large catalogue featuring classics from Sinatra, Nina Simone, Bessie Smith and Chuck Berry, Bootleg Boogie Band are the real deal if you're searching for a thrilling live act with an authentic underground vintage feel.
Five incredible acts for Peaky Blinders entertainment, perfect for your wedding or party. If you're interested in finding out more be sure to give us a call today on 0800 564 2240 to chat about booking one of our incredible Tailored Entertainment acts for your Wedding Entertainment or party.
Peaky Blinders Wedding and Party song Playlist
Setting the Mood with the Right Tunes: A Peaky Blinders Wedding Playlist - Music is an essential element in any wedding celebration, and for those seeking to infuse their special day with the distinctive charm of the Peaky Blinders, the right soundtrack is key.
This list is of a few recommendations of songs that capture the spirit of the show, offering a mix of jazz, swing, and blues that can transport you and your guests back to the roaring 1920s. From classic jazz standards to modern twists on iconic tracks.
These tunes are sure to set the mood for an unforgettable Peaky Blinders-themed wedding.
Red Right Hand - Nick Cave & The Bad Seeds: A haunting and atmospheric ballad with a dark, bluesy tone, setting a mysterious and eerie mood.
Bang Bang (My Baby Shot Me Down) - Nancy Sinatra: A sultry and melancholic tune with a touch of Western flair, evoking a sense of romantic tragedy and heartache.
The Man I Love - Billie Holiday: Billie Holiday's rendition infuses this jazz standard with her signature smoky vocals, adding a deep sense of longing and emotion.
Sh-Boom - The Chords: A joyful and energetic doo-wop song with an upbeat tempo, capturing the spirit of carefree '50s rock and roll.
You're Nobody 'Til Somebody Loves You - Dean Martin: A classic crooner track filled with smooth, romantic vibes, embodying the essence of timeless love songs.
Ain't Misbehavin - Fats Waller: An exuberant jazz composition with lively piano and vocals, reflecting the lively and carefree spirit of thejazz age.
The Charleston - James P. Johnson: An iconic jazz piece that's perfect for flapper-style dancing, exuding the infectious energy of the Roaring Twenties.
Dream a Little Dream of Me - Ella Fitzgerald: Ella Fitzgerald's rendition adds a soft, dreamy quality to this jazz standard, making it a lullaby of love and yearning.
Sweet Child o' Mine - Postmodern Jukebox (Vintage Jazz Cover): A creative twist on a rock classic, blending vintage jazz elements with the iconic guitar riff for a retro and swingin' rendition.
Outfits for a Peaky Blinders Wedding Or Party
Image Credit: suits-me
Peaky Blinders Suits for Weddings and Partys
A Peaky Blinders-themed wedding or party demands distinctive and stylish attire, and it's essential to capture the essence of the 1920s while adding your unique flair. The Peaky Blinders wedding suit, embodying the rugged yet dapper style of the show's characters, forms the core of male attire.
Choose a tailored three-piece suit in dark, earthy tones like charcoal gray, deep brown, or black, and make the vest a pivotal element for authenticity.
The tweed fabric adds rustic charm, while peak lapels infuse rugged elegance. Don't forget the iconic flat cap, a must-have accessory harmonising with your suit's colour and fabric.
Elevate the vintage appeal with a collar bar on your dress shirt, a pocket watch on a chain secured to your vest pocket, and Oxfords or Brogues as footwear.
Accessorise with a narrow tie, tie clip, suspenders, braces, round vintage-style glasses, and a vintage-inspired boutonniere.
Image credit: Suits me
Take Suits me, for example. Above you will see their classic grey tweed style 3-piece suit, one of their many suits that we love that are in their peaky blinders suit collection.
Image credit: Suit Savvy
Additionally, there is Suit Savvy for instance, with their brown tweed 3 piece check suits that give off that classic rustic peaky blinders charm.
Image Credit: TruClothing
Or TruClothing with their 3 piece black check suits to give off more of that dark peaky blinders gangster look.
These three offer a great selection of Peaky Blinder suits. Their suits authentically capture the style of the 1920s, making them an ideal choice for peaky blinder-themed weddings or parties.
Peaky Blinders Wedding or party Dress
For the bride, the Peaky Blinders wedding dress should embrace 1920s style with silhouettes like the drop waist or column, and luxurious fabrics like silk, satin, or lace. Beads, sequins, or intricate embroidery can infuse vintage charm.
Accessories such as a Juliet cap veil, a headband with feathers and jewels, gloves, and pearls add the finishing touches. Consider vintage-inspired hues. Finish with a bobbed hairstyle or finger waves for an iconic look.
Your Peaky Blinders wedding dress will embody the true spirit of the show, exuding vintage elegance and timeless sophistication on your special day.
wedding guest dresses to wear to a peaky blinders themed wedding
Image Credit: hatista.dress
When attending a Peaky Blinders-themed wedding as a guest, it's essential for women to embrace the 1920s style with a touch of personal flair.
Choose classic flapper dresses in dark hues, or opt for drop-waist dresses adorned with art deco patterns, lace, or velvet to capture the vintage elegance. Elevate the look with accessories like a narrow tie, tie clip, suspenders, round vintage-style glasses, and a boutonniere.
Photography for your Peaky Blinders Themed wedding or Party
Image Credit: Tim Simpson
In Peaky Blinders-themed wedding photography, the goal is to capture the era's essence creatively. Your photos should reflect the Shelby family's grit and glamour through inventive techniques. Consider vintage aesthetics with sepia or black-and-white images, imaginative angles, close-ups of attire details, and dynamic lighting to evoke the Peaky Blinders' mood and style. That's why we believe Tim Simpson perfectly embodies these elements and incorporates them into his body of work. His photography provides moody and atmospheric shots that capture the true essence of a Peaky Blinders-inspired creative look. He focuses on soft-focused, long, mid, and close-up shots while also drawing creative inspiration from the surrounding environment to give his photos an environmental Peaky Blinders look.
classic cars for your peaky blinders themed wedding or party
Image Credit: premiercarriage
Transport Fit for the Shelbys
Selecting the ideal wedding cars for a Peaky Blinders-themed wedding or party is pivotal in capturing the spirit of the 1920s.
Choose classic vintage cars like the Rolls-Royce Phantom, Bentley, Drop Head Jaguar, Duesenberg Model J, or the Ford Model T in dark, earthy colors for historical authenticity. Personalise the car with Peaky Blinders-themed decorations.
For those seeking the epitome of elegance and style, look no further than Premier Carriage.
As seen in the image above their, Regent Landaulette is one of the many classic cars in their collection. A perfect choice of a vehicle that offers six passenger seats, this wedding car is the perfect selection for brides who are planning vintage-themed weddings reminiscent of popular TV shows like Peaky Blinders.
Image Credit:2XL Limos
Additionally, 2XL Limos stands out as an excellent choice as well, particularly renowned for its stunning array of beautiful classic Ford Model cars such as their Margaret Rose seen in the image above, which is truly a marvellous rendition of the fantastic 1930's Gangster style carriage.

Rolls Royce Imperial Viscount Landaulette on the right
Image Credit: barringtonscars
If you're looking to add more of a touch of luxury and sophistication to your Peaky Blinders-themed wedding or party, then take a look at Barringtons cars for their Rolls-Royce Imperial Viscount Landaulette. This opulent car will elevate your entrance and make your event even more memorable.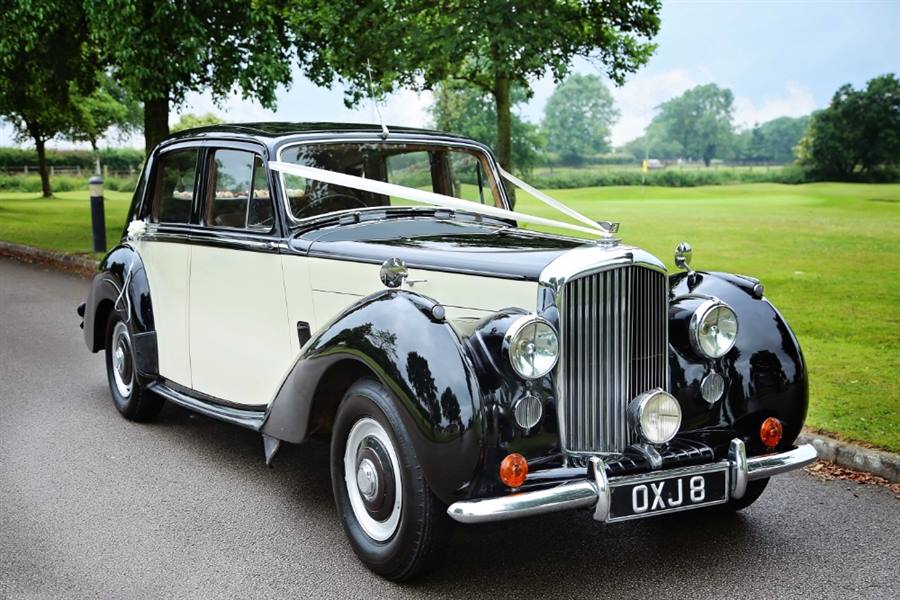 Image Credit: Theweddingcarehirepeople
If the Rolls-Royce for that touch of luxury doesn't quite match your taste, you can also opt for the timeless elegance of vintage Bentley cars, that theweddingcarhirepeople have much of! Especially their vintage classic black and ivory Bentley MKV1
These three companies offer an array of options that perfectly complement the Peaky Blinders theme, ensuring that your wedding or party exudes the same timeless charm and class as the beloved TV series.
1920's stylised peaky blinders wedding or party invitations
Image Credit: wearetickledpink
For a Peaky Blinders-themed wedding or party with a captivating Gatsby flair, your invitations can embrace the romantic and opulent aspects of the 1920s.
Picture vintage-style invitations in deep, rich tones like burgundy and emerald green, adorned with intricate art deco patterns and ornate fonts.
Such as wearetickledpink invitations for example, reminiscent of Gatsby's extravagant parties. Invitations that offer a classic, enduring aesthetic adorned with the elegant Art Deco style of the 1920s and 1930s, characterised by its timeless geometric lines, shapes, and vintage typography.
Image Credit: wearetickledpink
Or you can explore more options such as PureInvitation, they can customise invitations with those rich tones of emerald green and burgundy with a 1920s thematic style so you can ensure when your guests receive your wedding or party invitation that they feel as if they have been personally invited by the peaky blinders themselves.
Venues Tailored for Your Peaky Blinders Wedding or Party
Image Credit: Clearwell castle

Choosing the right venue is essential for capturing the Peaky Blinders ambiance at your wedding.
To achieve the essence of this iconic theme, opt for a Peaky Blinders house venue or a location that embodies the Shelby family spirit.
Consider historic mansions exuding 1920s grandeur, industrial venues with vintage charm, speakeasy bars for a Prohibition-era vibe, rustic barns, or even personal residences for an intimate experience.
Take Clearwell Castle for example, a beautiful exclusive use wedding venue in Gloucestershire boasting grand reception rooms that can be styled in the 1920s Gatsby fashion, creating an ambiance reminiscent of a bygone era, much like the world depicted in Peaky Blinders.
Peaky Blinders Themed Wedding and Party Menu Ideas
Image Credit: Jamieorlandosmith
The choice of food and beverages at a Peaky Blinders wedding is vital for recreating the 1920s ambiance.
Craft a menu that embodies the show's spirit with classic dishes like beef wellington, oysters Rockefeller, deviled eggs, and lobster bisque for an elegant touch. For a rustic twist, include hearty options like pork pies, sausage rolls, and Scotch eggs.
The well-stocked bar should offer whiskey, gin, and vintage cocktails like the Old Fashioned. Conclude with sweet treats like bread and butter pudding or cheesecake. A menu that captures the era's essence enhances your Peaky Blinders wedding experience.
Peaky Blinders themed Wedding Cakes
Completing your Peaky Blinders-themed wedding with a Peaky Blinders wedding cake is a delectable opportunity to infuse the essence of the show into your special day. These cakes are not only delicious but also edible works of art, echoing the iconic era of the show.
When choosing a Peaky Blinders wedding cake, consider the design, where you can embrace the theme with elements like razor blades, vintage pocket watches, tweed patterns, or miniature flat caps.
The cake should reflect the rugged yet sophisticated style of the Peaky Blinders. Opt for a color scheme of dark and moody shades, such as deep blues, blacks, or rich burgundies, and consider adding gold accents or metallic shades for a vintage touch.
Don't overlook the cake's flavours; traditional English options or rich choices like chocolate and red velvet can be fitting.
For further inspiration and cake ideas, explore Peaky Blinders wedding cake designs online to infuse your wedding cake with the spirit of the Peaky Blinders, making it a delectable centerpiece for your special day.
Peaky Blinders Decor and Style
Image Credit: More Production
Peaky Blinders Wedding Decor - To capture the Peaky Blinders essence, adorn your venue with vintage decor reminiscent of the 1920s. Deep, rich colors like burgundy, navy, and emerald green, combined with aged wooden furniture, candlelit centerpieces, and classic floral arrangements, set the tone.
Embrace the industrial backdrop with exposed brick walls, metal lanterns, and filament lightbulbs, creating a gritty yet sophisticated ambiance. Dim overhead lights, table lamps, vintage chandeliers, and candle sconces provide an immersive, moody glow.
Add period-appropriate signage and props, including blackboards with handwritten chalk calligraphy, vintage typewriters, and antique framed photographs.
Table settings should radiate Peaky Blinders charm with vintage-style glassware, monogrammed napkins, and rustic table runners. Peaky Blinders Wedding Style - Beyond decor, Peaky Blinders style influences the overall ambiance and attitude of the celebration.
Offer photobooths with era-inspired props and backdrops, like old cars, brick walls, and vintage cameras, merging past elegance with Prohibition-era edginess. Pay homage to this iconic TV series by creating an unforgettable atmosphere.
Get ready to host a wedding that transports your guests to a world of speakeasies, smoky jazz clubs, and razor-sharp style, embracing your inner Shelby.
More Production is an excellent example of a service that provides a wide range of stylistic and thematic options for decor, props, and lighting. Their expertise in production can truly bring the environment to life for your Peaky Blinders-themed wedding or party.
They offer a dedicated section entirely devoted to the 1920s, which is ideal for any event aiming to capture the spirit of the Roaring Twenties. From art deco starbursts and speakeasy signs to lavish furniture, there's a plethora of prop hire options to select from for your 1920s-themed event.
Conclusion
As we conclude our journey through the world of Peaky Blinders, we hope our insights and suggestions inspire your creativity. Whether planning a wedding, a themed party, or embracing Shelby style, we've provided ample inspiration. Remember, the heart of any exceptional event lies in the details. Stay connected with Tailored Entertainment for more tips, trends, and ideas. Embrace the Shelby spirit and let vintage reign supreme. Thank you for joining us, and cheers to an era of grit, glamour, and timeless class.